It was our first day of the competition and it didn't start off great, as it was pouring it down with rain. At breakfast it was the same as usual pain au chocolate and croissants. Since today we were racing we made up sandwiches and stole food from the other teams' tables to keep us going throughout the day.
We got the bus at 07:00 and travelled to pool, as we walked in to the campus there was a lot more people than any of the other days. We quickly ran into get a seat and we reserved the best seats in the competition as they were out of the way of the rain.
Up first was Nathan W with the 50m backstroke, to my knowledge most of the team races went well and it was a good experience, as we had never swum in rain and cold before. After Nathan, we had Paul in the 100m breastroke and Andrea in the 100m fly. During the races it started to get colder and windier so we had to double up on the layers. I finally got into my warm up after Andrea had raced and as soon as I walked in I could see most of the best swimmers in the world e.g. Adam Peaty and Ben proud etc. I was very happy to get in for a warm up as the warm up pool was warmer than the outside conditions.
Then around 12:00 I headed towards the call room, where I grabbed a quick picture with Michael Andrew (Best junior sprinter ever) and got into the zone for the 200m freestyle and after my race I had 10 minutes until the 400m freestyle so headed right back to the call room to prepare for my next race. Then a couple minutes later Nathan W swam his 200m backstroke. After this we headed back on the bus and had lunch and had a sleep.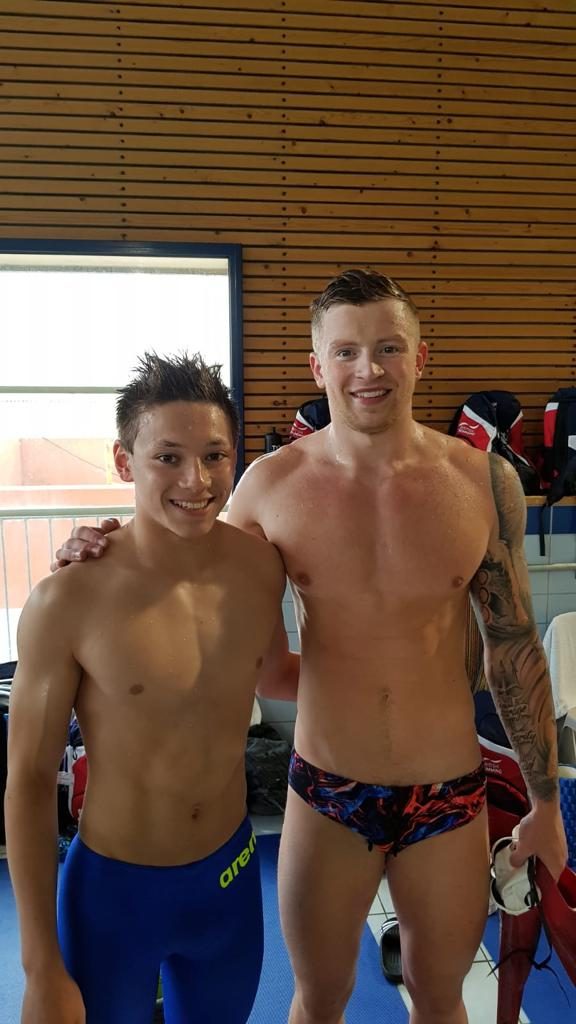 After all this we all went back to the pool to watch the A finals and talk to all the others swimmers there. It was a good way to end the long day. Paul's highlight of the day was getting a picture with Adam Peaty and hopefully we will be seeing them going head on in the future.
More in tomorrow's Blog on Day 2/Last Day of the competition.