I thought it would be good to give everyone a brief description of what it is like racing at an international meet, and so I am doing one last blog.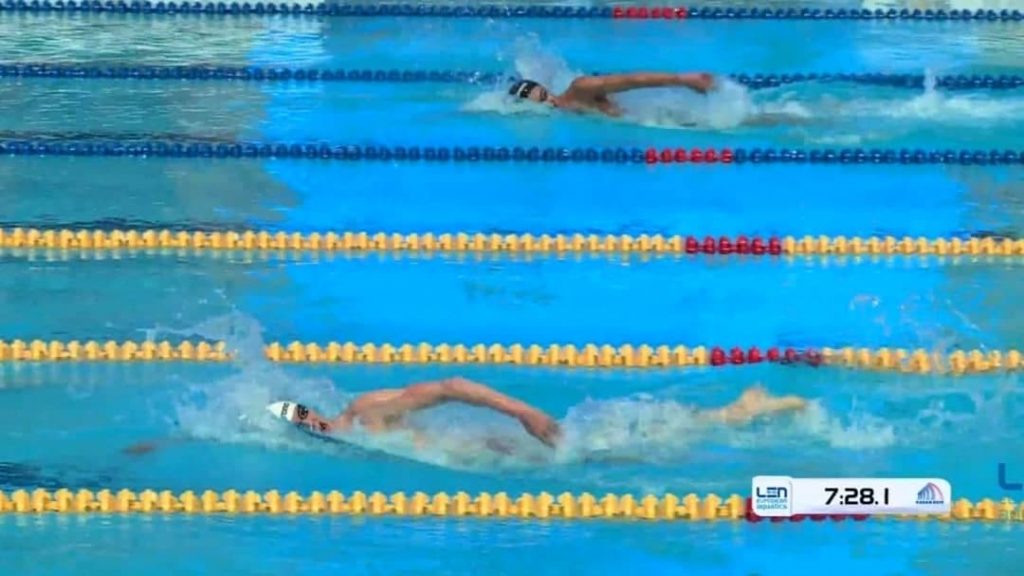 The 2nd day of the competition was my first racing day. I raced the 1500m freestyle, which started off with waking up at 6.45am and going downstairs to reception to be weighed and to take a readiness test.
After this we went on a walk for 10mins just to waken up and loosen out.
After the walk we had breakfast which was pancakes, sausages and omelettes. I then went upstairs to pack my racing bag. We left the hotel at 8.45am to get a bus at 9am. The bus journey took roughly around 20mins.
When we arrived at the pool we got security checked and then went onto poolside. Ireland had a section just behind the warm down pool so I headed that way. When I got to the Ireland section, John Szaraznek and I made a time line so I knew exactly what to do and at what time to do it.
So around 90mins before my race I rolled out and stretched for 15mins. After this I did my warm up which takes normally around 35mins. At this point I have around 40mins till my race so I take a 5 mins break just to calm down and then I put on my racing suit.
After this, me and the gym coach, James, walk over to a room beside the call room where I do my pre race priming which involves medicine ball slams and some jumps. After this you have to be in the call room around 20mins before so I head to the call room with my coach John and we go over what I need to do and produce in the race. When I get into the call room I stick on music and relax.
It was different at this competition as when you walk into the call room you show your pass and you get your cap, suits and body checked for legal purposes. Then you sit down in call room one for around 5 mins. After the 5 mins you move to call room two where you hand in your pass and and get in racing mindset. After this you move to call room three where I do activation work e.g. slaps and jumps. Then its race time. After my race, I walked to get my clothes and pass back.
A little note to all the athletes reading:
Big mistake to make before your race is taking your clothes off too early as this causes a drop in body temperature. Whereas if you keep them on until just before your race you are more warm.
After I collected my stuff I talked to John about the race and do a swim down.
I was very happy with how I raced in Kazan as I produced 2 out of 2 lifetime personal bests and got 2 Ulster Junior and 2 Ulster Senior records and I also got a Irish junior record. However I was more happy with the technical aspects of the race rather than the time outcome.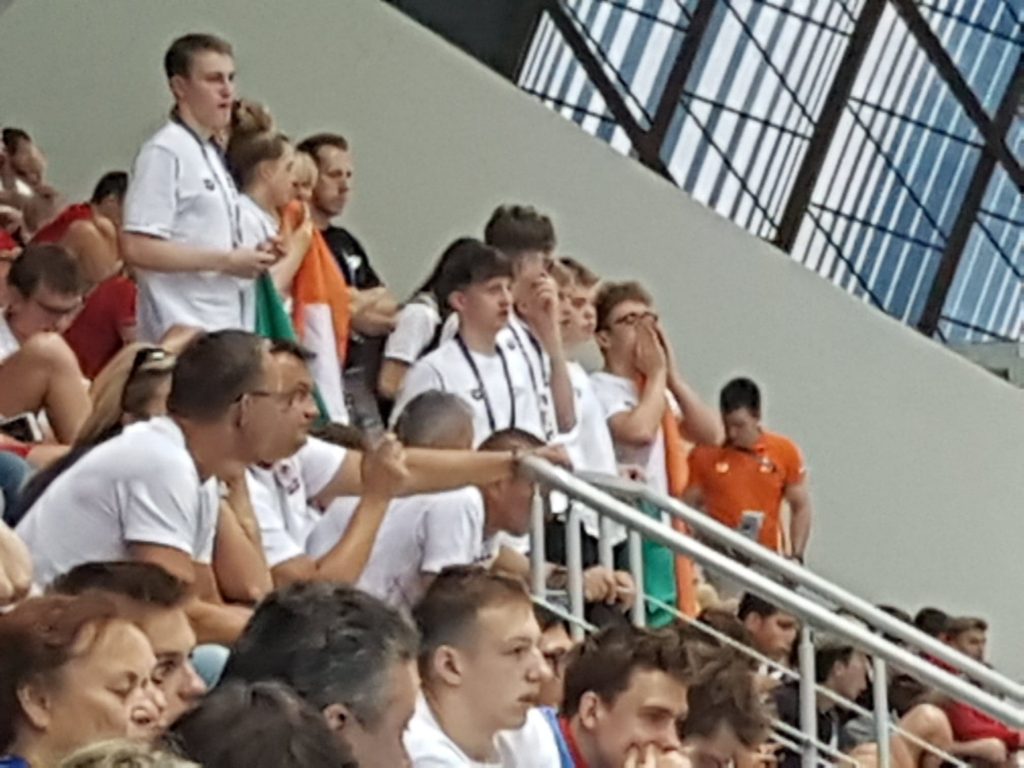 After my races I was in full supporter mode for the Irish team. I must say my favourite race was Eoin Corby in the 100m breaststroke final it was very inspiring to see one of my best friends posting one of the fastest times for a junior in the world.
Also had to mention that Sean Scannell had an absolute blast first leg of the 4x100m medley relay.
To conclude this blog I would just like to say it was a pleasure representing Ireland and well done to everyone who competed and supported. I would also like to give a big thanks to the coaches and my own coach Martin – you have got me to this stage and let's bring on World Junior Championships on the 20 August 2019