Learn to Swim Programme
CLICK HERE TO ENROL INTO OUR LEARN TO SWIM PROGRAMME
CONTACTS
LCSC Secretary
Email: secretary@lisburncityswimmingclub.org
REPORTS AND AWARDS
Reports and awards are available at the end of term and the first week back. Award are presented when a child completes a level in the Learn to Swim syllabus. There is a charge of £2.00 for the certificate.
ENROLMENT
Details of places offered along with dates, times and invoice will be emailed to parents of current swimmers, and we then enrol from the waiting list. If you wish to change days or times, or discuss further options, request by email to adminofficer@lisburnswimmingclub.org All places must be confirmed and paid for before the start of term. If you do not wish to re-enrol, please inform the Admin Officer so places can be offered to children on the waiting list. Dates and fees are detailed below.
CHILD LEARN TO SWIM
The LCSC Learn to Swim Programme is designed for children from the age of 4 years.
With the emphasis on building confidence and enjoyment, children learn the fundamental skills for water safety and for developing a wide range of aquatic skills alongside the four main swimming strokes.
Each child is placed in an appropriate level according to experience and ability, and will progress at his or her own rate through the Levels 1 – 6. Children who have completed Level 6 will progress into the Advanced Skills Development Squad. This will provide the opportunity to further develop the skills and endurance to join the Development Squads in the club, which start them on the competitive pathway. Please note there may be restrictions due to the number of places available.
Not all children wish to proceed to competitive swimming; the aim of the programme is make swimming fun, develop safety and competency in the water, and provide the foundation for a lifetime involvement in aquatics. The water polo and Swim Fit programmes provide an excellent opportunity to challenge and further develop skills.
We are currently redesigning our application form, until the new version is available please contact Mandy at the pool or using adminofficer@lisburnswimmingclub.org for information on joining our programme.
ASSESSMENT, REPORTS ON PROGRESS & AWARD SCHEME
The club has invested in an advanced on-line database programme (SwimSoft) that enables us to track the progress of each individual pupil. The teachers will assess the children towards the end of each term and complete their reports on line. From the reports we are able to provide feedback on specific areas a child needs to work on in order to move to the next level. This information is also made available the following term, so the subsequent teacher will be aware of the child's strengths and weaknesses.
Water Polo
Ball skills and games are included in many of the lessons, to add variety, build on confidence, enjoyment and coordination. We can now offer children the opportunity to further their skills and develop the sport of water polo including inter club league matches. The water is shallow and equipment used is adapted for the younger age group. The session runs on Thursday evening from 6:00 – 7:00pm. We encourage children to keep up a swimming session to ensure all-round skills and fitness. Beyond the Mini-Maxi Polo matches, players can progress by taking advantage of our link with Cathal Brugha Water Polo Club, availing of additional training with the aim of competing in 14yrs/under and 16yrs/under matches.
SwimFit
The SwimFit session takes place in the main pool on Sundays 1-2 pm. Places will be limited, with priority to children aged 11 yrs+ who are already in the club or learn to swim programme. The aim will be to improve technique and develop stamina and speed.
Disability Swim Sessions
There are two different sessions for swimmers with a Disability available.
Tuesday evening from 7:30 – 8:15 for swimmers over 11 years old.
Friday evening from 4:15 – 4:45 for swimmers from 4 to 11 years old.
All Disability sessions are designed and planned according to the needs of the child. Our programme will be designed to accommodate both group swimming and one to one sessions based on the needs and abilities of the swimmers.
DATES & TIMETABLE
Dates and fees are provisional until notification of events at the LeisurePlex are confirmed. For information on dates and the timetable of classes, click on the document below.
Term 1 Sun 01 09 19 to Fri 13 12 19
Term 2 Sun 05 01 20 to Thu 09 04 20
Term 3 Sun 26 04 20 to Fri 03 07 20
Term 4 Mon 13 07 20 to Thu 20 08 20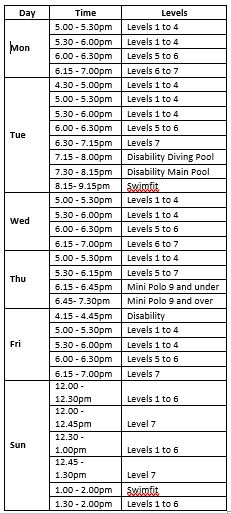 FEES
Fees are payable in advance, or in two instalments on request. An invoice is emailed, with information on the terms and methods of payment. Fees can be paid by direct debit or cheque: cash is not accepted. Scheduled cancellations are not charged; if a class has to be cancelled accounts will be credited. Fees are non-refundable other than medical or compassionate grounds. The Swim Manager must be notified, providing information: a medical note from the doctor may be requested.
WAITING LIST
Places will be offered to children on the waiting list as soon as they become available. To register please contact Mandy providing the following information: Name, Date of Birth, Home Address, Contact Telephone Numbers, a brief description of swimming experience and any special needs. Children who can swim may be invited to an assessment to ensure they are placed in the most appropriate class.
CLUB TRIALS FOR 2019/20
Trials for entry to the Development Squads take place in September, January and April.
Trials for entry to the Development Squads will take place periodically throughout the year.
This is the first step for children who are keen to pursue competitive swimming. Selection is based on skills, stamina, commitment and desire to progress in the sport; if selected, a 6-week settling in period allows the swimmer, coaches and parents time to decide whether full membership of the club is the route they wish to take.
The squad criteria for Development Squad 3 (which is the first level within the Lisburn City Swimming Club structure) can be found by following the link
Development-Squad-3 Criteria
Lead Coach – David Stronge: SwimmingDevelopment@lisburncityswimmingclub.org
For a guide to the technique and skills of swimming, go to the BBC sports website:
http://news.bbc.co.uk/sport1/hi/other_sports/swimming/4225756.stm